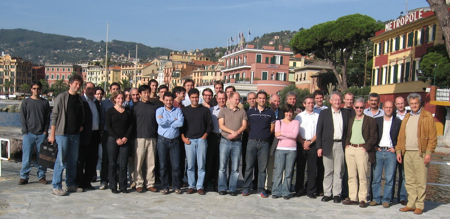 Scope:
The 7th SIG 33-ERCOFTAC workshop, co-sponsored by the Marie Curie EST programme FLUBIO, belongs to the successful series initiated in 1999 in Toulouse with the workshop on "Adjoint methods in flow control, optimisation, weather predictions, etc."

The purpose of the present workshop is to provide a forum where new ideas and concepts on transition to turbulence and flow control can be openly discussed. Each session will be initiated by an introduction by a leading expert pointing out promising directions of future research efforts, and will be closed by a round-table discussion chaired by the same expert.
Invited speakers:
Jean-Marc Chomaz: Linear and nonlinear stability of real flows: the global approach
Bruno Eckhardt: Dynamical systems and shear turbulence
Paolo Luchini: Optimal feedback control applied to transition and turbulence
Clarence Rowley: Reduced order models for flow control
Topics:
We invite submission of abstracts on ongoing activities on the following topics:
linear stability approaches, modal and non-modal theories
effect of stochastic and deterministic excitations, receptivity
by-pass transition, experiments and scaling laws
nonlinear effects, "exact coherent structures", edge states
control, estimation and compensation
optimal and suboptimal approaches
reduced order models, POD, Voronoy tessellation, etc.

Scholarships:
A limited number of scholarships is made available by ERCOFTAC and FLUBIO.


Location:
Hotel Metropole, Santa Margherita Ligura (GE), Italy. The hotel is located in this small town of the Italian Riviera, some 35 km southeast of Genova. Santa Margherita boasts a palm- fringed waterfront, a pleasant string of marinas, docks for pleasure and fishing boats, and pebbly beaches. Glitzy neighbor Portofino can be easily reached by bus or boat. Genova, Italy.

Abstract deadline:
April 30, 2008 (Closed).

Organizers:
Alessandro Bottaro (Universitá di Genova)
Ardeshir Hanifi (FOI/KTH)

Contact:
Prof. Alessandro Bottaro
FLUBIO Marie Curie EST Project
Università di Genova, Facoltà di Ingegneria
Dipartimento delle Costruzioni, Ambiente e Territorio
Tel.: +39 010 353 2540, Fax: +39 010 353 2546
E-mail: alessandro.bottaro@unige.it
Announcement:
announcement.pdf
Programme:
timetable.pdf
Book of abstracts:
Presentations:
grek.pdf

henningson.pdf

katasonov.pdf

luchini.pdf
willis.pdf