ERCOFTAC QNET-CFD Knowledge Base Wiki
''The world's foremost repository of structured knowledge and advice, designed to underpin quality and trust in the industrial and academic application of CFD''.

Based on a hierarchical structure organised around; Application Areas, Application Challenges & Underlying Flow Regimes
The ERCOFTAC QNET-CFD Knowledge Base Wiki introduces a new concept for collecting, structuring and sharing knowledge, best practice advice and guidelines for all CFD applications. It is continuously being enriched with the insight and experience of the world community.
Engineers in industry as well as students & researchers from academia practising CFD can reap the benefits of knowledge and understanding distilled from realistic industrial test cases, used to judge the competency and limitations of CFD, and from generic, well studied test cases, capturing important elements of key flow physics encountered in one or more Application Challenges.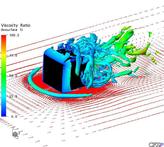 Partitioned into Gold and Silver domains:
Gold content is of high quality and value

Silver content is less mature and open for discussion, interaction and development.

Users are encouraged to share opinions, and add new or modify existing silver domain content.
" The KB Wiki is free to all visitors "