The 8th Osborne Reynolds Research Student Award is organised by the UK Pilot Centre of ERCOFTAC.
This prestigious Award recognises the quality of young researchers studying fluid dynamics, acoustics, combustion or turbulence in the UK and their ability to communicate their work.
You are encouraged to enter the award competition if:
• You are a PhD student currently studying in the UK or you have been awarded a PhD degree from a UK University after 1st January 2009.
• Your research topic can be in any specialisation - areas of "applied" fluid mechanics or the "physics of flows" are particularly welcome.
The award finalists, who will be selected from entrants on the basis of submitted abstracts, will be invited to present their work at Cranfield University, Thursday 24th June 2010.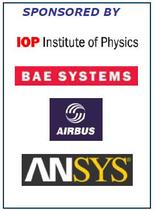 Travel costs to and from the venue will be met by the sponsors. The presentations will be judged by a panel of eminent researchers. The winner will be awarded the 2010 Osborne Reynolds Prize of £400, and the runner-up will receive £100. Five finalists will receive a certificate of merit in recognition of their effort. In addition, the three highest ranked finalists will be entered into the European wide 2010 da Vinci award.
Entrants are requested to submit a 3-page long extended abstract, including relevant figures, results and key objectives of their research. The abstracts should be in electronic format and submitted to Dr. Iain Barton, BAE Systems, iain.barton@baesystems.com
Previous entrants may reapply if they still qualify.
For further information: Deadlines:
Submission of Abstracts: 23rd April 2010
Selection of Finalists: 23rd May 2010
Dr. I. Barton, Advanced Technology Centre,BAE Systems, Filton, Bristol.
iain.barton@baesystems.com
Programme: reynolds-day-2010_01_generalinvite-2.pdf